Matrimonial, Divorce, Family Law, Litigation
Focusing in family and matrimonial law in Manhattan, Westchester and surrounding areas.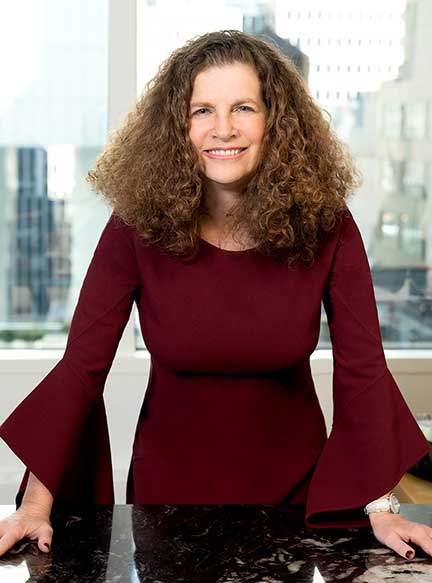 Lisa Zeiderman, a managing partner at Miller Zeiderman LLP, a Founding Member of the American Academy of Certified Financial Litigation, a Divorce Financial Analyst, practices in all areas of matrimonial and family law including but not limited to matters involving custody, an equitable distribution of assets, child support and the negotiation and drafting of prenuptial and postnuptial agreements.
"Lisa is a legal powerhouse in every way you can imagine. There was never a moment of doubt from the first consultation, through discovery, and ultimately to court that I didn't whole-hardheartedly believe in her ability to get the job done. There is nothing that can compare to her tenacity, determination and negotiating skills which are par excellence." ***** 5 star AVVO Review 
Lisa Zeiderman is a high energy, zealous and relentless advocate. She strategically and creatively crafts each case from the time of the first consultation to its resolution, in order to achieve the client's ultimate goals.
Once divorced, Lisa is a mom, and is remarried. Lisa formerly owned her own business in the fashion industry, and utilizes the negotiation tools she used every day on the streets of Seventh Avenue in her legal practice.
Family Law
Divorce
Separation Agreements
Orders of Protection
Divorce Litigation
Financial
Custody
Custody
Physical Custody
Legal Custody
Modification of Custody
Relocation
Grandparent Visitation
Equitable Distribution
Distribution of Assets ("equitable does not always mean equal")
Real Estate
Business Valuations
Restricted Stock Units & Stock Options
Child Support
Financial Readiness
Budget Sheet
Modification of Child Support
Post Judgment
Enforcement
Modification
A trustworthy New York City and Westchester Family Law Attorney
In the face of an unresolved family law matter, the most important step you can take towards protecting your family's future is to seek the counsel of an experienced and focused family lawyer. Lisa Zeiderman and her team are fluent in all areas of family law throughout the state of New York. Her law firm treats each case with careful consideration and the individualized attention it deserves.
Versatile Attorney Practicing All Types of Family Law
With two office locations situated in Manhattan and Westchester County, Lisa handles cases in all areas of family law across the state, including:
Divorce and Separation
Child Custody and Visitation
Equitable Distribution of Assets (including business evaluations)
Valuation of Assets
Child Support
Maintenance / Alimony
Domestic Violence (Orders of Protection)
Family Offense Proceedings
Violations of Orders of Protection
Abuse and Neglect
Gay, Lesbian & Transgender Family Issues
Visitation (including grandparent visitation)
Expungement
Parent and Child Relocation
International Child Abduction
Adoption
Paternity
Prenuptial, Postnuptial, Domestic Partnership, & Divorce Settlement Agreements
Family and Matrimonial Law Appellate Litigation
Post Judgment Matters