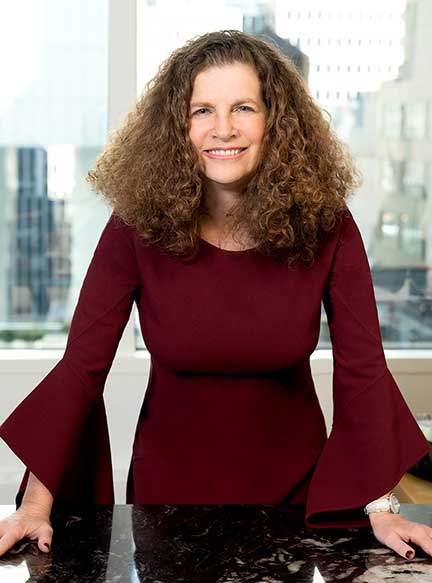 Trusted Family Law Attorney Serving New York City and Westchester
The most important step you can take when faced with a family law issue is to seek the counsel of an experienced family law attorney. Lisa Zeiderman and her team are fluent in all areas of divorce and family law and will treat your case with the careful consideration you deserve.  
About Lisa Zeiderman
Ms. Zeiderman, a Managing Partner, is a Certified Divorce Financial Analyst and Certified Financial Litigator, known for her work on complex litigation regarding financial and custody divorce matters, as well as pre- and post-nuptial agreements in New York City and Westchester County.

She is also very active in her community and civic organizations and has an ongoing media and LinkedIn presence which enables her to put together an interdisciplinary team to ensure each client has access to the top professionals in each discipline they might need as they embark on a divorce.

Ms. Zeiderman's recent accolades and activities include:

Awards and peer/client recognitions
Crain's New York Business Notable Woman Lawyer for 2022
Crain's New York Notable Diverse Lawyer for 2022
Hudson Valley Best Lawyer in 2022
2021 Best Family Law Attorney for Client Satisfaction by the American Institute of Family Law Attorneys
Super Lawyer in Family Law for 2020, 2021 and 2022
Maintains a 10 rating on Avvo
Client Champion for 2019, 2020
Thought leader and author
Authors well-read blog for Psychology Today, "Legal Matters: Understanding Mental Health Issues as They Apply to Divorce and Child Custody"
Regularly published in The New York Law Journal and Financial Advisor Magazine on topics ranging from changes in New York State law that affect family law, complex litigation, tax issues and child custody.
Is a frequent guest on podcasts discussing divorce, family law, financial matters, and financial empowerment for women.
Writes for Financial Advisor Magazine on topics that financial advisors should consider when working with divorced or divorcing clients.
Discusses issues including financial empowerment, tax issues and child custody in publications including Kiplinger's Magazine and Forbes.
Civic work
Serves as VP, member of the Executive Board and Chair of the Development Committee for Savvy Ladies, a 501 (c) (3) whose mission is to bring financial literacy to women across New York and nationally.
Serves on the Board of Directors of Family Legal Care (formerly known as LIFT: Legal Information for Families Today) whose mission is to provide pro bono legal assistance to families as they navigate the Family Court System throughout New York State.
Recently elected President of the Justice Brandeis Law Society in the 9th Judicial District, an organization that raises awareness about racism of all kinds and organizes cultural events for attorneys and judges.
Is a member of the JBANY, the umbrella organization for the five Jewish Bar Associations in Metro New York whose mission is to combat anti-Semitism.
As a Certified Financial Litigator and founding member of the American Academy of Certified Financial Litigators, Ms. Zeiderman also brings particular experience in complex financial matters, including issues involving complex executive compensation, deferred compensation, restricted stock units (RSU) as well as retirement assets.

Her approach to matrimonial and family law often includes enlisting an interdisciplinary team, including mental health professionals, financial advisors, career counselors and real estate advisors. This enables her to create an integrated approach for clients and their families going through a divorce that doesn't begin and end with negotiating the settlement agreement.

She also works with cases that involve mental health issues including narcissism and borderline personality, and she regularly consults with mental health professionals on these matters.

She is a member of the Legislative Committee of the Family Law Section for the New York State Bar Association, and a member of the panel for Attorneys for Children.

Ms. Zeiderman also has experience handling high-profile cases of interest to the media.

Ms. Zeiderman formerly owned her own business in the fashion industry and utilizes the negotiation tools she used every day on the streets of Seventh Avenue in her legal practice. Herself once divorced, she has an adult daughter, and is remarried.