Are you passionate about financial empowerment for women? Join Savvy Ladies as we bring together our supporters, advocates, and allies for a virtual evening of celebration on November 18th, 2021 at 6pm ET!
Savvy Ladies is a non-profit that focuses on equipping women with the financial knowledge to create their own financial roadmap.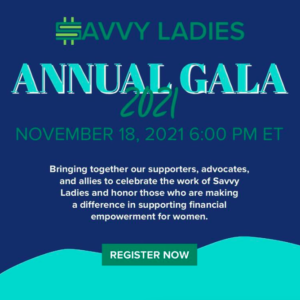 This year, we will be honoring some incredible women who have paved the way for others to have financial freedom. (Wait till you see who is receiving our Inspiration Award this year…!)
There are so many ways to get involved:
Questions about which option is right for you? I'd love to connect! Reach out at [email protected] today.
To learn more about Savvy Ladies, visit our website: https://www.savvyladies.org/