Co-parenting is a challenge. Keeping track of parenting schedules and all the details of children's lives is complicated, but probably the most difficult aspect day-to-day is splitting children's expenses. When you add in heightened emotions, opportunities for conflict multiply.
As a family law attorney, I am often called in to resolve disputes over money that have gotten out of hand because of misunderstandings and escalating miscommunication. Luckily, there are some excellent apps that allow you and your co-parent to track expenses and reimbursements, and even make and receive payments, while documenting communications in the event that things go off track and you need the help of your attorney or another outside mediator.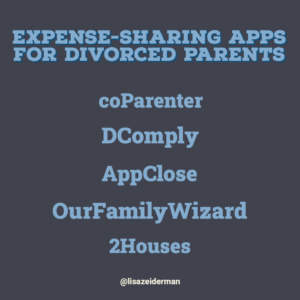 Here are five of the best apps, both paid and free, that will take some of the pain out of sharing children's expenses and help you foster a better relationship with your co-parent.
1. coParenter
In addition to tracking expense payment requests and reimbursements, this app covers all aspects of co-parenting, including calendar sharing and scheduling, along with GPS-based tools for pickups and drop-offs. It also includes a communication platform where, as in other co-parenting apps, messages can't be edited or deleted.
CoParenter's expense tracking and reimbursement feature enables you to send your co-parent a request, upload documentation like receipts, and add a note. Then your co-parent can agree, disagree, or ask to discuss details. If they agree, you can keep track of when the payment is made. If they disagree, you can click "Get Help" to get access to a team of "child specialists, mediators, therapists and retired judges" to help resolve conflicts in real time. CoParenter currently has no transfer feature for funds.
A couple of useful innovations are the "smart filters," which recognize potentially hostile messages and help you hit the pause button before sending, and SoloMode, which allows you to use many of the app's best features even if your co-parent doesn't accept your invitation to join.
Pricing: $12.99/month or $119.99/year for one parent; $199.99/year for both co-parents. Free 30-day trial, during which you are entitled to two free mediation sessions.
2. DComply
Unlike other co-parenting apps, DComply is a specialized payment platform for sharing children's expenses. It's like Venmo for co-parents, with the difference that Venmo assumes a certain level of trust between the parties, which is not the case with many divorced spouses. DComply provides a financial fingerprint in the event that parents disagree. This process of transparent tracking and accounting of shared parenting expenses was designed specifically to keep co-parents out of court over money.
As with coParenter, you can send a bill to the other parent with DComply, easily add a receipt from your phone's camera, categorize the expense and add a memo description. If your co-parent accepts the expense as legitimate and presses pay, you'll receive an ACH bank transfer in 3 business days. All tracking is automatic.
Although DComply does not provide access to mediators, it does have a three-step dispute process so parents can give further explanation, add additional information, and ultimately document the disagreement. Other helpful features include the ability to send recurring and multi-item bills, make/receive child support payments on autopay, and file disputes right from the app.
Pricing: Choose from the three user types: Trial/Free, Basic ($2.99/mo.), and Premium ($5.99/mo.) Free trial (no credit card require) for seven months (if you only pay bills rather than submit them, it remains free).
3. AppClose
This app has many of the same the scheduling and communication functions of other co-parenting apps, like time- and date-stamped text messages that can't be altered. Although the design is attractive, there are persistent complaints about the usability of the calendar function. On the financial side, it lets you track expense and submit reimbursement requests while keeping records of any responses from your co-parent. The amounts (approved, pending, declined, or paid) are organized by percentage in a nifty piechart. AppClose also enables you to send or receive payments through the ipayou platform. A very useful feature is AppClose Solo. Similar to coParenter's SoloMode, it permits you to communicate with non-connected co-parents, third parties, or other family members via text, email, or social media.
Pricing: The only app that is completely free.
4. Our Family Wizard
Created by a divorced couple, Our Family Wizard is the oldest and most established co-parenting app and the one most often mandated by courts. Despite its widespread use, complaints abound, mostly about customer service. Along with the usual co-parenting calendar and messaging features, Our Family Wizard offers a tone meter that functions as an "emotional spell check," steering you away from hostile communications. The app also allows you to track shared expenses, upload invoices and receipts and classify them by category, and receive free customized reports of all payments and expenditures. There is also a payment platform called OFWpay to make and receive payments, but it is not exactly user friendly. You must be a member of the site for 30 days before applying then wait 5-7 days for application to be approved.
Pricing: $99.00/year for basic subscription for each participant ("tone meter" is an additional $10/mo.). No free trial, no monthly payment option.
5. 2Houses
Describing itself as a "co-parenting facilitator," 2Houses includes an interactive calendar you can share with your co-parent and a messaging system that allows you to communicate solely through the 2Houses platform. It also offers a streamlined financial management tool that helps you manage shared expenses while continuously displaying the balance. It features an easy-to-use reporting dashboard that divides spending into categories. Like other co-parenting apps, it enables you to send payment invitations to the other parent. One nice touch is the "wishlist," where you can post future gift suggestions for your children along with photos and other details.
Pricing: 14-day free trial, $12.50/mo. per family